"
A Carib grammar and dictionary

" by Henk Courtz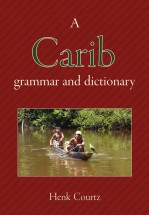 Title: A Carib grammar and dictionary
Author: Henk Courtz
Publisher: Magoria Books
ISBN: 0978170768
ISBN-13: 9780978170769
Format: paperback
Pages: 80
Size: 6.69" × 9.61"
Price: $39.95
Excerpts: Visit CaribDictionary.com
Buy now: $39.95 USD · £29.95 GBP

Order Locally
Note: The below sellers are listed for your convenience. Ordering locally can mean paying less by avoiding international shipping charges. But if your preferred seller's price for this book is a lot higher than the suggested retail price ($39.95 USD), consider ordering from a bookseller abroad, as the price may turn out to be lower even after shipping.
If your preferred seller does not offer "A Carib grammar and dictionary", check back in a few weeks—some sellers may list new titles a few weeks or a few months later than others.

Amazon.co.jp

Kinokuniya

OK! English
Booktopia

PreçoMania

Amazon.ca

bookfayre.cz

Libri.de

Amazon.de

Samfundslitteratur

booksunlimited.ie

Krisostomus

Amazon.fr

Amazon.it

DEA Store

libreriauniversitaria.it

PrecioMania

Van Stockum

The American Book Center

Fishpond

Studia

Kraina Ksiazek

BizCar

Loot.co.za

BookPlus

Bokus

Internetbokhandeln.se

Blackwell

Waterstones

Amazon.co.uk

Amazon.com
Description
Originally Henk Courtz's Leiden University PhD dissertation, "A Carib grammar and dictionary" contains a detailed description of Carib grammar and the most extensive inventory of Carib lexemes and affixes so far. It is based on the work of previous researchers and a decade of field work carried out by the author, mainly in Galibi, a Carib village in eastern Suriname.
The Carib language is spoken by some 7000 people living in Venezuela, Guyana, Suriname, French Guiana and Brazil. This book distinguishes four dialects: Venezuelan Carib, Guyanese Carib, western Surinamese Carib, and eastern Surinamese Carib which includes French Guianese and Brazilian Carib. Interesting features of the description are
a new phonological analysis, including details on stress and stress patterns,
a morphological analysis, including among other things a hitherto undescribed tense/aspect morpheme as well as new explanations of many details,
a presentation of five syntactic word units,
dozens of pages containing texts with an interlinear morphological analysis and translation, and
a dictionary containing information on more than 6500 words. Information about the four dialects has been incorporated in the grammar and dictionary,
a new supradialectal orthography is used and suggested as fit for all Carib dialects.
This Carib grammar and dictionary is of interest to scholars in the fields of linguistic typology, comparative Cariban linguistics, Carib dialects, and to anyone who is curious to know more about the Carib language of South-America.