"
Romani Dictionary: Gurbeti - English / English - Gurbeti

" by Hedina Tahirović Sijerčić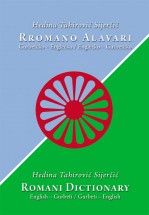 Title: Romani Dictionary: Gurbeti - English / English - Gurbeti
Author: Hedina Tahirović Sijerčić
Publisher: Magoria Books
ISBN: 0981162681
ISBN-13: 9780981162683
Format: hardcover (case laminate)
Pages: 396
Size: 5.5" × 8.5"
Price: $59.95
Buy now: $59.95 USD · £44.95 GBP

Order Locally
Note: The below sellers are listed for your convenience. Ordering locally can mean paying less by avoiding international shipping charges. But if your preferred seller's price for this book is a lot higher than the suggested retail price ($59.95 USD), consider ordering from a bookseller abroad, as the price may turn out to be lower even after shipping.
If your preferred seller does not offer "Romani Dictionary: Gurbeti - English / English - Gurbeti", check back in a few weeks—some sellers may list new titles a few weeks or a few months later than others.

Amazon.co.jp

Kinokuniya

OK! English
Booktopia

PreçoMania

Amazon.ca

bookfayre.cz

Libri.de

Amazon.de

Samfundslitteratur

booksunlimited.ie

Krisostomus

Amazon.fr

Amazon.it

DEA Store

libreriauniversitaria.it

PrecioMania

Van Stockum

The American Book Center

Fishpond

Studia

Kraina Ksiazek

BizCar

Loot.co.za

BookPlus

Bokus

Internetbokhandeln.se

Blackwell

Waterstones

Amazon.co.uk

Amazon.com
Description
"... this bi-directional dictionary is another much-needed milestone in our ongoing struggle as Romani people to assert ourselves [...] I highly recommend this Gurbeti Romani dictionary..."
— Ronald LeeAuthor of "Learn Romani",
"Romani Dictionary: Kalderash - English / English - Kalderash
and "The Living Fire - E Zhivindi Yag"
www.Kopachi.com
* * *
Hedina Tahirović Sijerčić is a Romani journalist, poet, author, and translator, whose accomplishments span decades and continents. Her experiential knowledge of her native Gurbeti Romani and her professional expertise as the translator of several books, plays, and film scripts into the dialect make her the ideal compiler of the first Gurbeti Romani - English dictionary to be published in decades.
Containing over 17,000 lexical items, grammatical information, and example sentences illustrating real-world usage, this dictionary is an essential resource for both new learners seeking to communicate with Gurbeti-speaking Roma, as well as native Romani speakers and writers interested in broadening their interdialectal Romani vocabulary.