"
An Unusual Family (A Romani Folktale)

" by Hedina Sijercic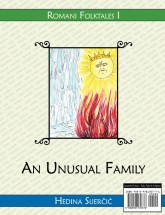 Title: An Unusual Family
Author: Hedina Sijercic
Publisher: Magoria Books
ISBN: 0978170776
ISBN-13: 9780978170776
Format: paperback
Pages: 28
Size: 8.5" × 11"
Price: $11.95
Excerpts: Visit RomaniFolktales.com
Buy now: $11.95 USD · £7.95 GBP

Order Locally
Note: The below sellers are listed for your convenience. Ordering locally can mean paying less by avoiding international shipping charges. But if your preferred seller's price for this book is a lot higher than the suggested retail price ($11.95 USD), consider ordering from a bookseller abroad, as the price may turn out to be lower even after shipping.
If your preferred seller does not offer "An Unusual Family", check back in a few weeks—some sellers may list new titles a few weeks or a few months later than others.

Amazon.co.jp

Kinokuniya

OK! English
Booktopia

PreçoMania

Amazon.ca

bookfayre.cz

Libri.de

Amazon.de

Samfundslitteratur

booksunlimited.ie

Krisostomus

Amazon.fr

Amazon.it

DEA Store

libreriauniversitaria.it

PrecioMania

Van Stockum

The American Book Center

Fishpond

Studia

Kraina Ksiazek

BizCar

Loot.co.za

BookPlus

Bokus

Internetbokhandeln.se

Blackwell

Waterstones

Amazon.co.uk

Amazon.com
Description
A beautifully illustrated Romani folktale about the troublesome children of Mother Earth and Father Sky, from Magoria Books' Romani Folktales collection. Hedina Sijercic, internationally published Romani Poet and Author, brings us the stories from her childhood with the vivid watercolour painted illustrations of Doris Greven. This special bilingual edition contains both the English version and the Romani original of the story. Visit www.RomaniFolktales.com to see what you are missing.